How Lumion can breathe life into a new design business
Richard Childs is a talented artist & designer and the brains behind Chumleys Art & Illustration, a small-scale illustration and design company based in Nottingham, UK. He has worked for many years with many kinds of media and methods to produce his art and designs and applies his skills to a wide variety of spaces and events. His talent has allowed him to get to know and work for many interesting people over the years, including the famous soccer manager, the late Brian Clough OBE.
Richard is in the throes of setting up a new collaborative venture this year called Goliath Events; a company that will rely heavily on Lumion within its design processes for reliable events management solutions, through illustration. It's a step which makes him enthuse about the range of possibilities now at his fingertips.
What's your background?
I've been an artist my whole life but have a formal education in Civil Engineering. I've worked for a long time in highway design, network management and traffic control in Local Government but a couple of years ago set up an art and design business. One of the stimuli which pushed me along this journey was winning the inaugural David Shepherd Wildlife Foundation Wildlife Artist of the Year international art competition.
I painted a photo-realistic orangutan using coloured pencils and from the winnings, I went in search of the 'man of the forest' in the wilds of Borneo. I received national publicity at the time and it literally took my business to another level.
Richard Childs
Designer and Artist at Chumleys Art
"With Lumion I feel I'm much more in control of my workflow."
How did you get into 3D Art?
Having an engineering background as well as being an artist, it made moving to 3D a logical and relatively easy step for me. I tend to approach things meticulously and quality is what I always focus on. I love being creative and am always on the lookout for ways to improve and innovate at what I do. I tried SketchUp to begin with and thought it was fantastic.
I eventually found Lumion and the combination of both was great and I've constructed a workflow from them using a WACOM Cintiq digital pen display and Photoshop. These were all quite major purchases for me but very necessary to the services I offer and I now look upon them as the best things I've ever bought. Luckily for me, the commissions have paid for these acquisitions!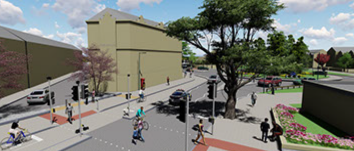 How did you find out about Lumion
My clients wanted animations and realistic renders within my models so I went looking for 3D possibilities and came across the Lumion3d.com website via a Google search. I downloaded the demo and referred to the resources on the website, the product page, all the tutorials and other people's stories on the showcase page.
I also went onto the Lumion YouTube channel and looked through even more examples of what had been created by other people using Lumion. I really did very thorough research. I also used these videos to set the bar of what I had to achieve to compete with the very best.
Yes, it was the most expensive software that I was considering at the time but it looked like the best, so I needed to be sure that it did what I wanted it to do. Everything looked so easy with Lumion that eventually I decided to buy the full version online and I've been loving it ever since. It' a serious investment but you really get a lot for your money.
What do you like about Lumion?
I like the fact that you can make animations so easily; with Lumion it's so straight-forward. My clients wanted moving, living scenes in the finished illustrations and Lumion ticked all the boxes for me.
I also liked the way that you could change the season and the weather, that's easy too. The 360 panorama output that MyLumion delivers takes my models to another level over and above still images and animations. This was a real bonus as my clients can now control and view the model anywhere on pc, smart-phone and tablet at their own leisure to customers, stakeholders and the general public.
I also feel that I can price my work much better. With Lumion, I know how long something is going to take and I feel I'm much more in control of my workflow. The final illustrations always give a feeling of pure quality - every time.
How has Lumion helped your business?
Lumion will change things not only for my business and Goliath Events, but ultimately for my returning clients and customers who will receive an amazing illustration at the end of the day. It is fundamental to what we deliver and the potential is what's driving this new venture; it's what sets us apart from the rest. I created some animations recently very quickly and showed them to some people I work with and even though they know me for my creativity, they were totally blown away with the results.
They thought I was some kind of genius! In the animation I showed them, there was a sunset, people were walking, motorists driving and lights were switching on and off. I animated the scene to show it first in the summer and then to see it transforming into a picturesque snowy winterscape. The technical engineers I work with were absolutely amazed and couldn't believe what I had made with Lumion in such as short space of time. The new Lumion upgrade looks amazing too and I'm trialling new projects as we speak.
What kinds of project have you done with Lumion?
I'm based in Nottingham, which is the home of Robin Hood and I've recently carried out the designs for an events project for Nottingham's European Archery Championships 2016. It was all about transforming the market square into an international archery range with all kinds of interesting things going on around it; quite a hectic scene. The final production looked fantastic and the animation I built in Lumion was really convincing.
I even designed the event banners, archery target wall and tram advertisement wrap based upon my client seeing the 3D illustrative work. From the success of this project, Goliath Events has been established - Lumion is key in bringing potential clients' events to life before even a ticket is sold.
I've completed countless urban, environmental and highway project illustrations for many local authorities over the years. I always receive great compliments and recently when we showed a Lumion presentation for the first time on a local cycle scheme on the big screen, the reaction in the room was amazing.
Normally at public consultations we are asked endless questions from typical engineer's plans and publicity leaflets but because the animation showed so much, questions were very few and far between. It made our lives a whole lot easier!
How does the future look?
I'm really pleased with the direction my company is going in. I'm always investigating ways in moving my businesses forward and am willing to learn and try something new if it brings my business maximum benefit. I can see the potential of Lumion and it excites me - the future look bright. I've always been known for my traditional and digital artwork but I've found Lumion to really feed my creative mind that's for sure. So whether I'm painting a loved one or family pooch, caricaturing people or building Lumion 3D animated models, I'm happy. I create many things but Lumion keeps drawing me in – it's addictive. Whichever way I look at it, I'm really happy to have found Lumion and I'm sure it will be an important part of our business for years to come.