How to find your License key.
When you ordered Lumion you got a license key in your email. You can use this license key to find the upgrade options that apply to your current license. The title of this email is "Getting Started With Lumion".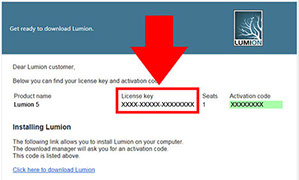 Upgrade Price Table
Did you buy a new license of Lumion 7 or Lumion 7 Pro on or after October 1, 2017?
If so, you can now upgrade to Lumion 8 at a very special discount for a limited time.
Upgrade prices for new licenses and seats bought in July, August and September 2017
Version
Lumion 7 to Lumion 8
Lumion 7 Pro to Lumion 8 Pro
Lumion 7 to Lumion 8 Pro
Price Table with promotional prices for October 1st up to and including December 31st, 2017:
Version
Lumion 8 to Lumion 8 Pro
Lumion 7 to Lumion 8
Lumion 7 to Lumion 8 Pro
Lumion 7 Pro to Lumion 8 Pro
Lumion 6 to Lumion 8
Lumion 6 to Lumion 8 Pro
Lumion 6 Pro to Lumion 8 Pro
Lumion 5 to Lumion 8
Lumion 5 to Lumion 8 Pro
Lumion 5 Pro to Lumion 8 Pro