WCEC is a company with a history that stretches back over 40 years and is currently listed 88th on the AJ120 architectural ranking. Unlike many of their peers, during the recent recession the company continued to grow and the continued investment into technologies has helped to drive efficiency and improve their service.
Over the last 3 years the company workforce has grown to 144 staff with experience in a range of work sectors and is particularly strong in residential and retail. The Lumion team spoke with Designer, Ryan Fish and Architectural Software Expert, Maurizio Lombardo, to find out how Lumion is providing WCEC with another string to its bow.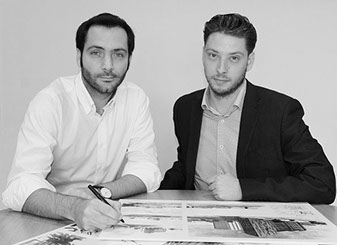 How did WCEC find out about Lumion and start using it?
Maurizio: I worked with Lumion before I joined WCEC at around the time of Lumion 3. When I came to WCEC I tried it out on a project and showed the results to the Directors here and they liked what they saw. We bought a license and initially it was just the visualisation department that used it but because it's so simple to process we found that the Architects themselves had started to use it to help produce their designs. As Lumion is so intuitive to use we don't need to engage our visualisation team on every project and Lumion has now grown to become an integral part of what we do here at WCEC.
Maurizio Lombardo
Architectural Software Expert
"Rendering used to be reserved for a few specialist jobs and making animations was completely unrealistic. Lumion changes all that."
How does Lumion fit the design workflow of WCEC?
We have a flexible workflow dependent on client needs and the stage that the project is in, also our client requirements are very different; there are customers who want artistic style sketches and others who prefer photorealistic imaging.
We use a combination of SketchUp & Lumion to communicate and refine an idea. The combination is fast, easy and powerful, the turnaround time on changes and iterations is short too.
This is where Lumion comes into its own. Changes in SketchUp can be easily incorporated into Lumion just by using the reload function. The Lumion scene is built at the beginning and the model is refreshed as the design develops.
You don't need to rebuild the scene and even though the design might change, the feel of the presentation that we get out of Lumion stays the same. Effectively the rendering time with Lumion is zero and the software produces excellent initial 3D visuals.
We have got our own visualisation department in house but they use a 3DS Max/Vray combination for the top-end renders which take a huge amount of time and expertise to create. Lumion is different because it is used by the architects themselves.
We mostly use Lumion to convey ideas. We can use it at various stages through the project but it is especially useful at the beginning. Lumion comes into its own when ideas need to be quickly sketched and visualized in a compelling 3D environment. The fact that still image rendering takes seconds instead of minutes or hours and that you can see in real time the effect of making changes enables us to explore countless possibilities.
Apart from the obvious workflow advantages of speed and ease of use, the vegetation, people and post-processing effects are great advantages of Lumion. We noticed that Lumion recently held a competition for teenagers who produced some outstanding 3D work, which demonstrates how easy it is to get great-looking results out of Lumion.
The post-processing effects in Lumion provide flexibility by allowing you the possibility to choose a sketchy feel or a more photorealistic outcome. Different customers want different things and Lumion makes it simple to tweak the images and animations to meet the client's requirements.
We also love the environmental tools in Lumion. These make all the difference by creating movement in the scene. They are so easy and fast to add and they look so good. Before Lumion, it was a major headache to do anything with these elements. We find Lumion simple to use which allows our employees to use it as part of their normal workflow.
How do you use Lumion?
What are Lumion's strong points?
Any problems with Lumion?
The only thing we've had to think about is the hardware we use. We have chosen our computers based on Revit requirements but the Lumion software requires exceptional graphic cards to run at its best performance level therefore making the right choice of hardware is certainly something to consider.
How has Lumion benefited WCEC?
The added value that we can offer to our clients is that we are able to offer them 3D images earlier in the design process helping them mould the initial ideas stage. These images can be created by the Designers and Architects themselves in their own workflow which has allowed our visualisation department to become more efficient and specialised.
How has Lumion benefited customers of WCEC?
Communication is the key benefit. Clients become engaged in the design because of the attractive life-like presentations. Being able to produce this kind of visualisation so quickly is a clear benefit to the customer.
What does the future look like for WCEC?
Very bright! We are very client oriented, competent and everyone likes working here. This creates a highly professional organisation, yet with a great, almost family-like atmosphere. We were recently placed at position 88 in the AJ120 top architects listing and we are keen to move upwards in our ranking.
Exceeding our client's expectations is key to our performance and much of our growth has been driven by client recommendations. Lumion has helped strengthen our company's services by way of helping us to communicate better with our clients, so it's contributing to our own growth as an architectural practice.